bridal fittings in Bristol & Newport
Vintage wedding dresses and bridalwear
With one of the largest collections of vintage bridal gowns in the UK, Ashwell & Co is the perfect place to find your sustainable wedding dress.
Vintage bridal appointments now available in store and online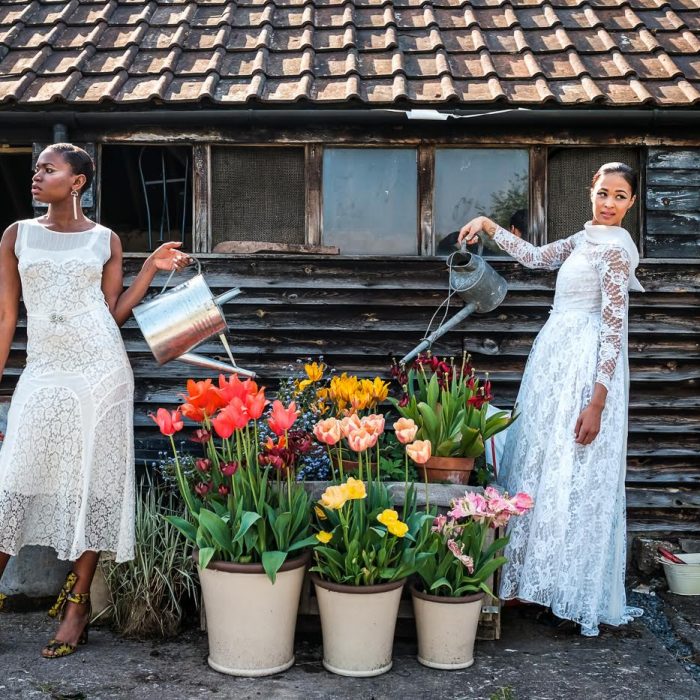 Unique and sustainable wedding attire, with something for everyone
We provide a friendly, relaxed service for those looking for an unusual and sustainable wedding outfit. Choosing vintage is the most sustainable way to buy a bridal gown, and we have one of the largest curated collections of vintage wedding dresses in the UK.
Sustainability, reuse & recycle
Our Bridal Boutiques in Bristol & Newport
Our business is built on the principles of sustainability, reusing and recycling, and keeping it local to the South West & Wales.
Clothing production is the second most polluting industry in the world, but we believe there is a better way. If you've found yourself here, the chances are that you do too.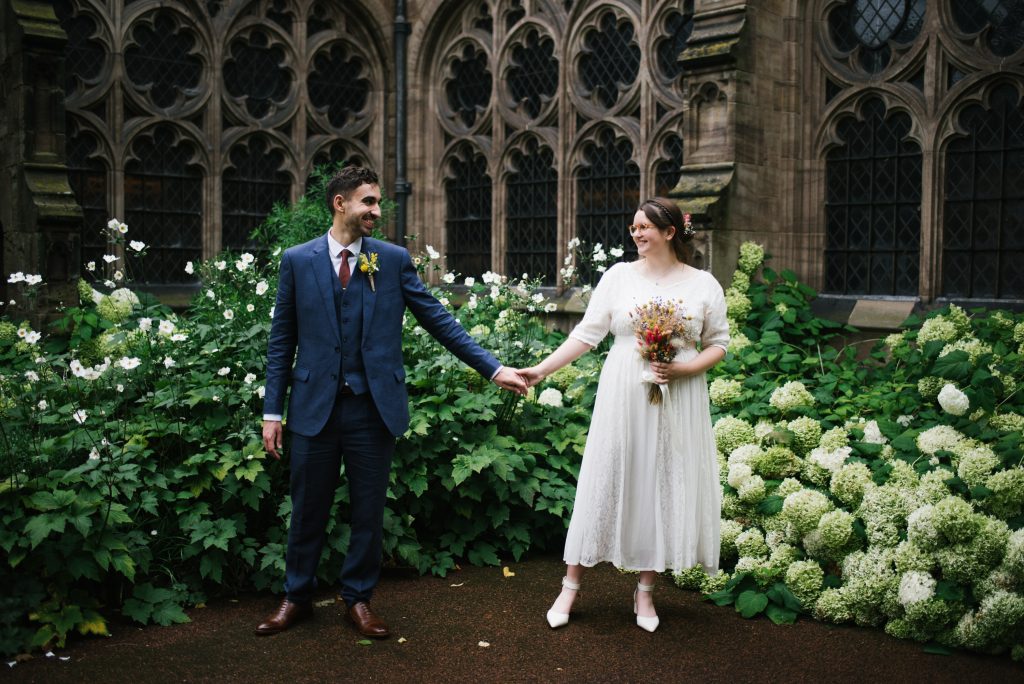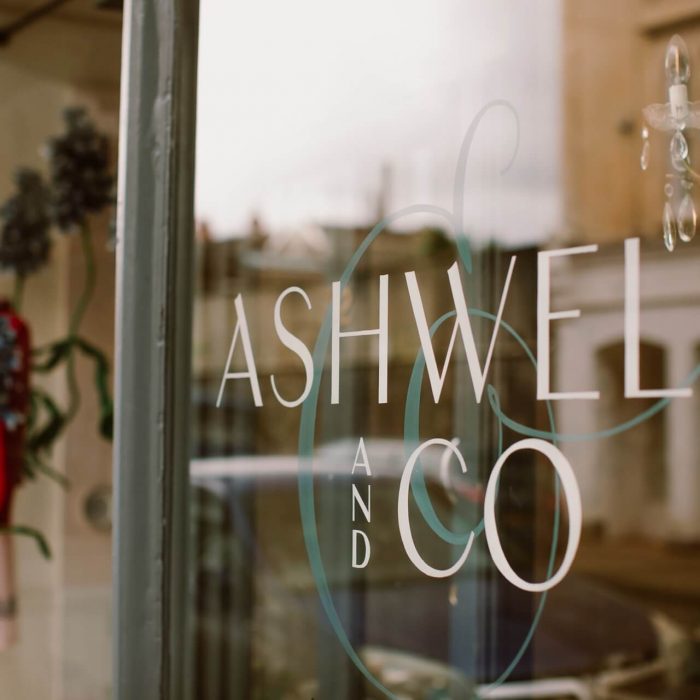 Nurture, comfort, confident
Ashwell and Co is a nurturing space, with the single goal of helping you find a wedding outfit that you feel comfortable and confident in. Buying a wedding dress should be an enjoyable experience, and we aim to put you at ease.
We will never pressurise you into buying a wedding dress, and we steer clear of any conversation that pushes our clients to conform to a certain standard of what you 'should' be. You should be whoever you want to be.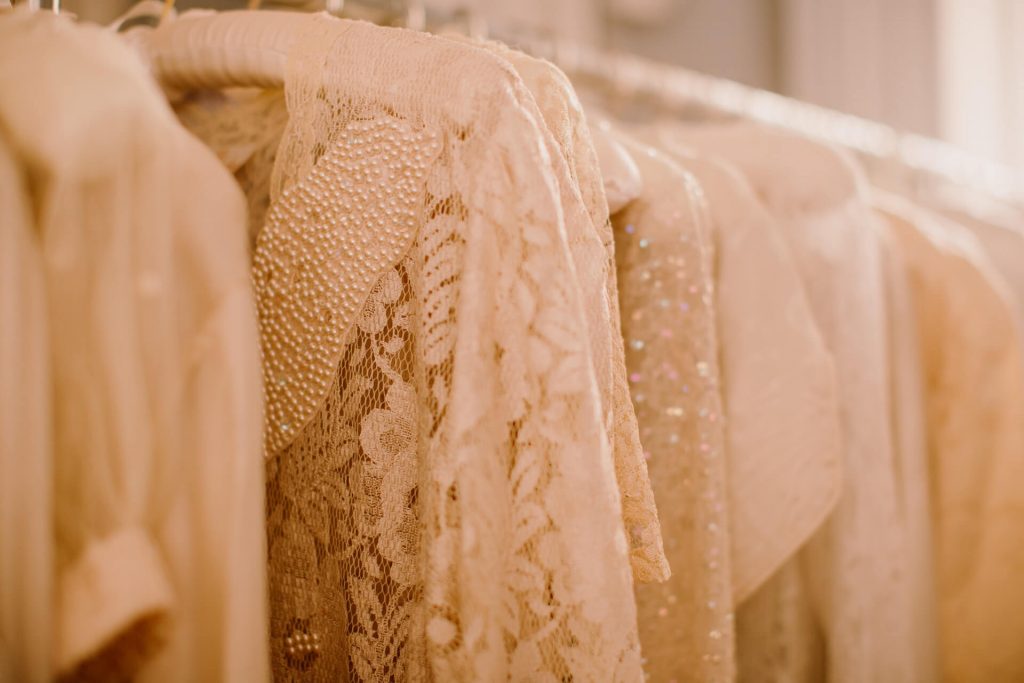 Our Bridal Boutique in Newport
Ashwell & Co are delighted to announce that we will be opening a second retail site in Newport in March 2022.
We will be offering our ever so popular vintage bridal fitting appointments from our new store in Newport Market from March 2022.
Sign up to our mailing list to be the first to know more about the new store.
Brides in their vintage wedding gowns
Testimonials from our real brides
Don't just take our word for it – this is what our real life gorgeous brides have to say about our vintage bridal fittings in Bristol.
"We had a wonderful wedding day. Thanks again for my wonderful dress. I loved wearing it! As you might remember I couldn't stop swinging the dress when I first tried it on and that was also the case on the wedding day. Thank you so much again for choosing this wonderful dress with me, I couldn't have been happier!"
"Thank you again, it was such an easy dress to wear which is just what I wanted! I had so many compliments on the dress. Pia also did an amazing job with the slip. It looked and felt perfect. Thank you!"
Visit the vintage bridal boutique
What to expect at Ashwell & Co
We are pleased to offer both face to face and virtual bridal appointments at our vintage boutiques in Clifton, Bristol or Newport Market, Newport.
A virtual appointment is a great starting point for those of you who live further away and would like to see our vintage bridal collection before committing to a face to face appointment.
Our in person appointments cost £20 and last 75 minutes. Our virtual appointments cost £10 and last 60 minutes. If you choose your dress with us the appointment fees are redeemable against the price of your dress.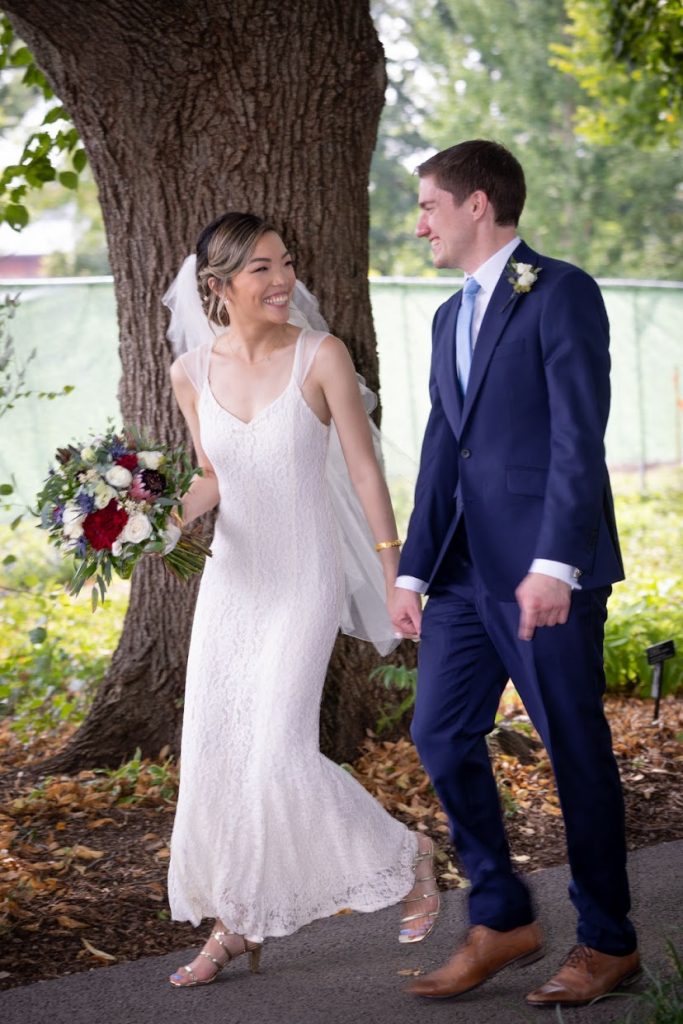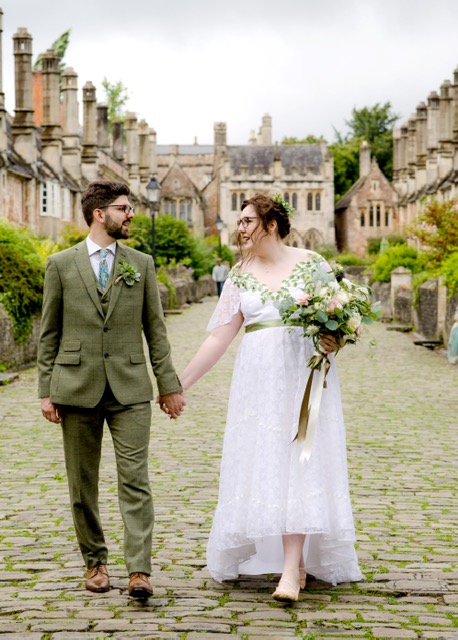 Your bespoke vintage wedding dress
Vintage wedding dresses do tend to be smaller than contemporary wedding dresses. This is for a variety of reasons; people often got married younger, they wore corsetry, and their diets were very different to what we eat now.
However, we have made it part of our mission to find bridal gowns in a variety of sizes, and to make the dress fit you – not the other way around.
Our current vintage bridal collection ranges in size, from a UK size 6 to a UK size 18, and we can usually add at least one or two sizes to most of our vintage dresses.
90% of our clients have their wedding dresses altered in some way. More often than not, this is to tailor the dress to fit, but you can also make larger changes if you would like to customise your wedding dress further. There is a huge amount of creative freedom in choosing to go vintage.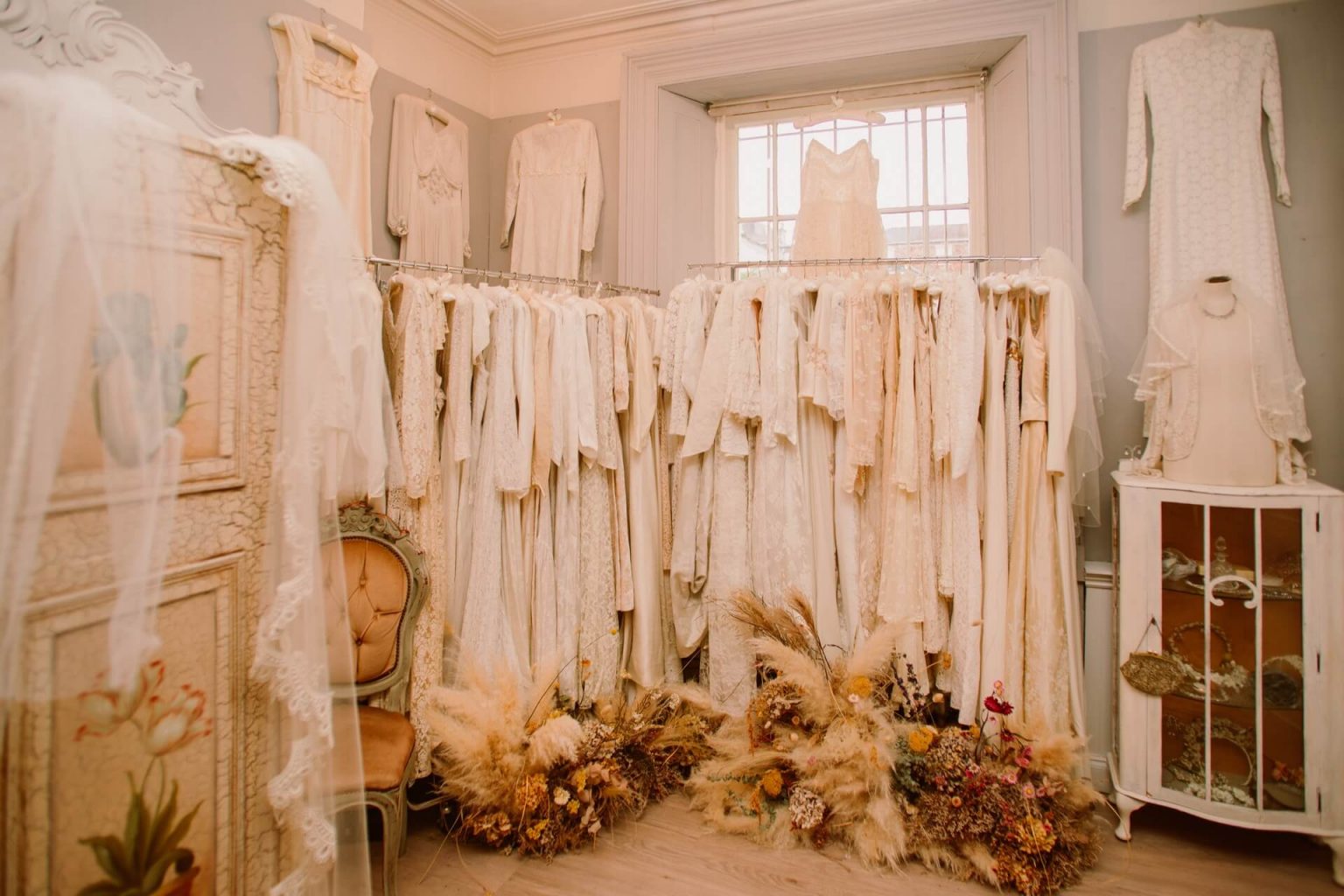 1900 - 1980s wedding dresses
Over 100 vintage wedding dresses
We have in the region of 100+ vintage wedding dresses in stock at any one time which gives us one of the biggest collections in the UK.
At Ashwell & Co, we have bridal dresses from the 1900s – 1980s, so there are eras and styles to suit every body shape.
From handmade Edwardian lace, to 1940s wartime jacquard, to 1970s broderie anglaise, our vintage wedding dresses are unique, diverse and authentic.
Affordable vintage wedding gowns
Choosing vintage is a great way to get high quality fabrics and craftsmanship for an affordable price. Our vintage wedding dresses sit within the mid range of the market, and are priced from £500 – £1,500.
Wedding dress alterations are an additional cost, and you should budget anywhere from £50 – £300 for this. We can advise you of this cost during your appointment.
Experts in vintage wedding dresses
There is a huge amount of time, skill and effort involved in sourcing, restoring and cleaning our bridal dresses to get them to a point where they are sellable and desirable. We offer a bespoke service, and we are one of the UK's leading experts in vintage bridal wear.
When you buy an Ashwell & Co wedding dress you are buying a unique piece of fashion history.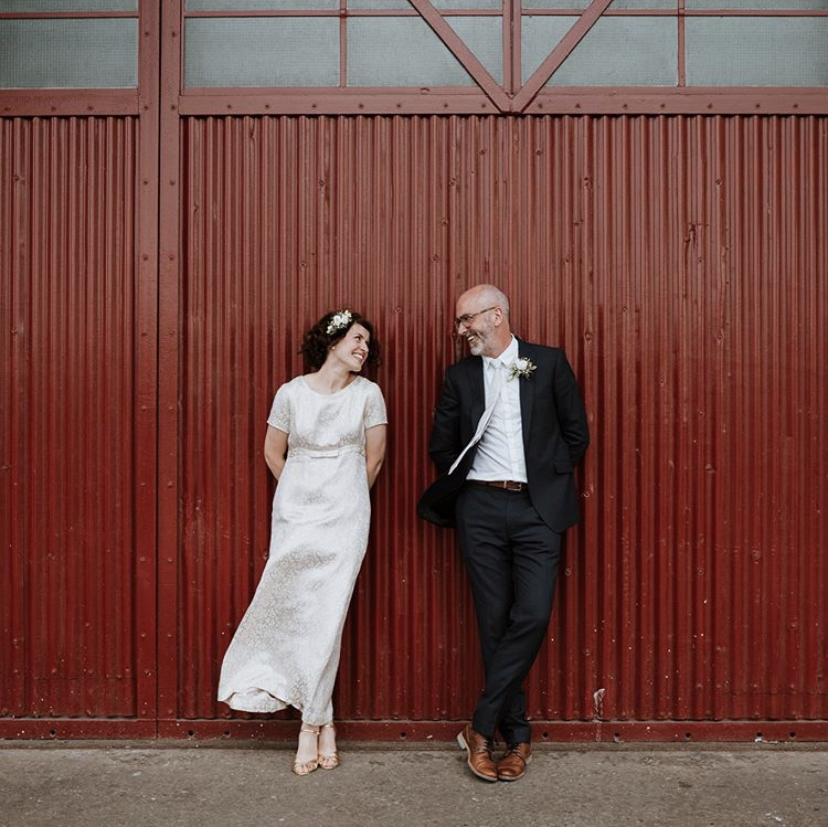 Book your Bridal Appointment
Book into our beautiful vintage showrooms for a relaxed dress fitting. Appointments are 75 minutes and cost £20
Tea at home • Tea parties • Bridal fittings
Discover more vintage offerings from Ashwell & Co
From joyous hen parties in our vintage boutique in Bristol, to decadent Afternoon Teas in our beautiful vintage Tearoom, as well as Afternoon Tea to have at home.