Exploring the Best Vintage Shops in Bristol, UK; Our Six Recommendations for Timeless Classics
by Sarah Starling

Opting for vintage clothing, furniture or homewares isn't just a style statement, it's a conscious choice of sustainability. The fashion industry is one of the world's largest polluters, and by choosing vintage, we can actively reduce our carbon footprint.
Every vintage item purchased is one less new item produced, meaning less waste, fewer resources consumed and reduced pollution. At Ashwell & Co we firmly believe in this sustainability ethos, and we're glad to be part of a city that embraces it too. We are immensely proud to be part of a movement towards sustainable fashion.
Bristol has a long standing love affair with vintage. There are dozens of shops throughout the city offering all kinds of second-hand, thrift and vintage. With so many options, it can feel a little overwhelming, so we have put together our guide to some of Bristol's must-visit shops covering a range of products, styles and budgets.
Starting in the South of the city and sharing our passion for vintage fashion is Rhubarb Jumble, known for their hand-selected pieces spanning several eras. A vibrant highlight of North Street in Southville, Rhubarb Jumble offers a wide range of clothing and homewares, as well as accessories and select items of furniture. In this colourful, welcoming shop, you'll find a great selection of sizes and styles with a particular focus on fashion from the 1980s and 1990s.
If you are just starting to be interested in vintage shopping and sustainable fashion, Rhubarb Jumble is a great place to start because it is bright, well organised and has friendly, approachable staff. The Rhubarb Jumble team take great pride in the shop layout; displays and stock are refreshed regularly so it always feels like there is something new to discover.
Rhubarb Jumble, 52 North Street, Southville, Bristol, BS3 1HJ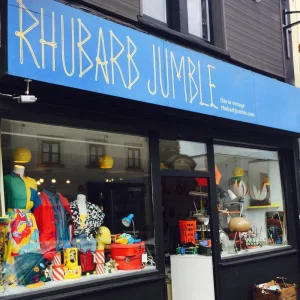 A short walk from Rhubarb Jumble you'll find Mack Vintage nestled in the independent shopping haven that is East Street Emporium. Mack is a vintage and preloved fashion boutique owned by former tv makeup artist, Lou who has a passion for beautifully made, aesthetically pleasing clothes.
Alongside fashion, Mack sells a gorgeous selection of mid century / retro homewares and interiors with Lou up cycling many of her finds to bring them back to life. A lovingly curated, colourful mix of beautiful things which is well worth a visit.
Mack Vintage, East Street Emporium, 127 East Street, Bedminster, Bristol, BS3 4ER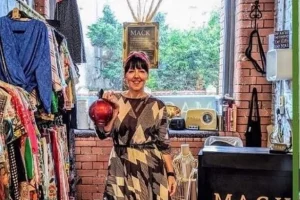 Moving onto one of the most aesthetically pleasing parts of Bristol, you can find Focus on the Past in the historic Clifton Village, home of the Clifton Suspension Bridge. We have a very soft spot for this shop as many of the interiors in Ashwell & Co were sourced in Focus on the Past. Not only is it a two-storey delight, but it is also a cooperative of twelve different antique dealers, ensuring an eclectic and fascinating mix of vintage and antique pieces.
Focus on the Past has a selection of vintage clothing, but the real gems are found in its a wide collection of items for the home, such as paintings, rugs, kitchenalia and curios. Depending on when you visit, you can find anything from antique sledges and printers' trays to shelving units in classic designs. With such a beautiful mix of pieces it's very hard not to find something to take home.
Focus on the Past, 25 Waterloo Street, Clifton Village, Bristol, BS8 4BT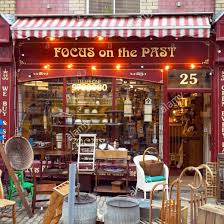 Ashwell & Co
Take a short stroll through the beautiful streets of Clifton Village towards Clifton Down and you'll find us. Obviously we're a little biased, but if you can only make it to one vintage shop in Bristol, we recommend visiting Ashwell & Co.
We are renowned for our unique collection of handpicked, wearable, authentic vintage fashion. With pieces from the 1830s though to the 1980s we pride ourselves on the quality and provenance of our stock. Each item is lovingly cleaned, repaired and prepared for sale by the Ashwell & Co team.
We stock items in a wide range of styles from design classics such as Ossie Clark, Biba and Jean Varon to rare CC41 pieces, 1930s satin evening gowns and Laura Ashley dresses. We are also house one of the largest collections of vintage wedding dresses in the UK.
We have an extensive network of people who can help you tailor your purchases to make them perfect for you. We offer personal styling appointments to guide you through the purchase for any occasion, whether its a new dress for your next holiday or a glamorous outfit for an event. Once you've thoroughly searched through our rails why not have afternoon tea to recharge the batteries before moving on to the next vintage shop on our list.
Ashwell & Co, 32 Alma Vale Road, Clifton, Bristol, BS8 2HY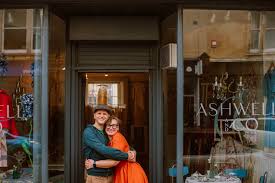 If you're heading back into town from Clifton then another must visit is Uncle Sam's on Park Street. Established in 1984, as you might have guessed from the name, Uncle Sam's focusses on American Vintage and has a great selection of menswear as well and womenswear. From Western shirts, vintage Levis, varsity jackets, biker jackets, cowboy boots and patterned skirts to Hawaiian shirts, belts and bandanas Uncle Sam's is a treasure trove of Americana.
Everything is beautifully displayed and really easy to find which helps with making mindful decisions about what to purchase. We have been shopping here since we were students back in the 90s and its still a favourite place to stop when heading up or down Park Street.
Uncle Sam's, 54A Park Street, Bristol, BS1 5JN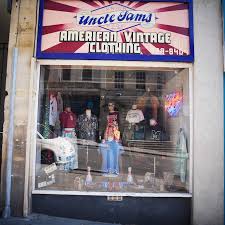 Hope on train from Clifton Down to Montpelier and you'll find yourself on, Gloucester Road with its long-standing reputation for its selection of vintage shops, cafes, bars and restaurants. Having opened in 1995, RePsycho is an integral part of Gloucester Road and their bold branding is memorable and eye catching. RePsycho has three floors of vintage for you to choose from and sells homewares, furniture, records, menswear and womenswear. The RePsycho team pay attention to current trends and ensure that there's a good selection of reproduction alongside timeless classics.
RePsycho makes it onto our list of vintage favourites because, like Uncle Sam's it is one of the few places in the city you can find authentic vintage menswear; Will found his entire wedding outfit in here. The vintage gods were very much smiling down on us that day.
RePsycho, 85 Gloucester Road, Bishopston, Bristol, BS7 8AS
Vintage Shopping for the Planet
Embracing the world of vintage shopping in Bristol goes beyond just acquiring timeless pieces; it is a powerful statement in favour of sustainability and a conscious choice with lasting effects. When we choose vintage, we are also preserving these items for the future. Each vintage item has a story to tell and by keeping it in good repair, we ensure longevity and pass it on for future generations.
Vintage pieces are crafted with care and attention to detail, often using high quality materials that withstand the test of time. By treasuring and maintaining these items, we not only honour their history but also reduce the need for disposable fashion and the cycle of constant consumption.
The act of repairing and up cycling vintage items fosters a culture of resourcefulness and creativity. By breathing new life into these pieces through repairs, alterations or repurposing we infuse them with our own individuality and style. In doing so, we celebrate craftsmanship and promote a more sustainable approach to fashion and design.