The History of Wedding Dresses in the 20th Century
Hello and welcome to the Ashwell & Co blog. We are a vintage bridal boutique based in Bristol and over the years we've picked up a thing or two about the history of wedding dresses, so we'd like to share some of that wisdom with you.
What influences wedding dress styles?
Wedding dresses aren't immune from fashion influences of the era. However, it's not only fashion that changes the shape and style of wedding dresses.
Social influence, politics, the economy, the advancement of clothing production and many other factors all contribute to what makes your wedding dress special.
We are going to take a look at dress styles through our favourite decades with some hints and tips as to what you can look for to age your own dress.
1920s Wedding Dresses
Experts predict another round of the roaring twenties post-pandemic with parties, fine dining, more spending on luxuries and focus on letting loose and having a good time. It's not surprising then that wedding dresses made and inspired by this era the first time around are now heading back into fashion.
So what are the telltale signs of a 1920s era dress? Look for knee-length hems with longer backs and dropped waists. Shape wise they took on the loose, straight tailoring that was fashionable at the time (think flapper dresses).
Those that could afford it would have dresses decorated and lined with intricate lace, gold and silver embellishments and some took inspiration from the Art Deco style, creating geometric patterns with beads and pearls  Brides often wore lots of accessories such as delicate cloche hats or glitzy headpieces and incredibly long, light veils made from tulle.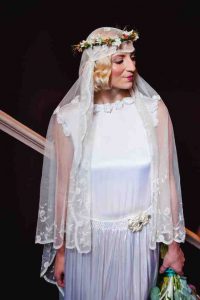 1930s Wedding Dresses
The rise and rise of the bias cut and the golden era of the Hollywood ensured the 1930s gave us some of the most iconic looks of the 20th century. Gone were the dropped waists and straight cuts of the 1920s. This was an era that celebrated the female form with liquid satin, figure hugging lace and long trains. Necklines were high, sleeves were long and accessories, including long veils and wax flower crowns featured heavily
Brides were keen to emulate the stars of the silver screen and it became common place for wedding gowns featured in movies to be copied and imitated. This meant styles that had typically only been accessible to the rich and famous become accessible to a wider audience.
There were also a multitude of royal weddings during this era which influenced bridal fashion. Princess Marina of Greece married the Duke of Kent in 1934 and the controversial wedding of Wallis Simpson and Prince Edward VIII took place in 1937.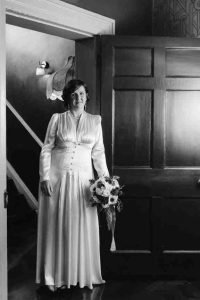 1940s Wedding Dresses
A decade of huge uncertainty and change. The 1940s has two very distinct looks, the more austere slim line look of war time fashion and the much heralded "New Look' (nipped in waist, big skirt) as created by Dior in 1947.
Fabrics such as jacquard and brocade became very fashionable in war time Britain due to their availability. These fabrics were made domestically and were therefore easy to get hold of unlike imported fabrics such as lace and silks. If you had a lace wedding dress in the 1940s you probably had connections! It was also just as commonplace for brides to wear their best suit rather than opting for an expensive wedding dress.
Other defining features of the war time era include shoulder pads, a dipped v at the waist, buttons at the front of the dress and v shaped cuffs. Post war the skirts became much fuller, the waist were cinched and the New Look era arrived.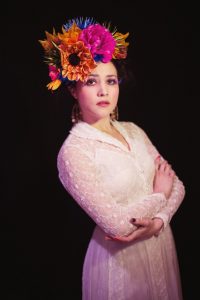 1950s Wedding Dresses
The 1950s is arguably one of the most recognisable and popular eras for vintage fashion out there. With its circular resurgence of popularity in the 80s, 90s, and 00s as well as today, the 1950s silhouette is a genuine classic.
Nipped waists, full skirts and the wiggle dress are all instantly recognisable looks that became popular post World War 2. With rationing relaxing, brides were able to indulge a little more unlike the in the 40s where dresses were made from any material that was spare, including parachutes!
Now lace could be made en mass from cotton and polyester so featured heavily on both the dresses and accessories. The bolero jacket also became popular with brides wanting a "day to night" dress. Shoulders covered in church then enjoying their strapless pieces whilst celebrating later! By the late 50s the structure of the dresses got softer and the hems shorter with the use of tulle bringing volume but not weight.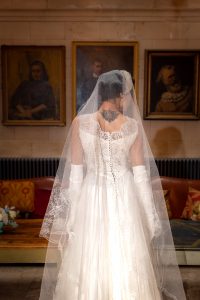 1960s Wedding Dresses

The 1960s! A decade of youth revolution, short skirts, The Beatles and Mod culture.
With such cultural change happening it was inevitable that wedding dresses would start to change too. The A-line shape of the 50s remained popular during the early 60s but now with shorter and shorter hemlines.
Mod fashion also started seeping into wedding trends and the column dress became popular. This streamlined silhouette paired with empire lines and long sleeves was the complete opposite of the A line, strapless look from the decade before. Delicate daisies featured heavily on dresses, embroidered onto sleeves and the dresses themselves for those looking for something soft and feminine. Others opted for 'Space Age' style metal accessories such as headbands and bangles. Veils also started to fall out of fashion with brides letting their beehives be the focus point, or for those who went for a classic pixie cut, a floppy hat.
One trend that didn't catch on was the paper wedding dress, after a year on the market they were sadly discontinued, we would love to see one modelled now!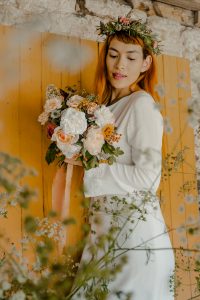 1970s Wedding Dresses

With even more loosening of societal pressures on women, dresses became looser fitting, floaty and above all, comfortable! Maxi dresses glided down aisles and crochet replaced the popular lace for a lot of brides. For some a trouser suit was seen to be chic. If it was good enough for Yoko Ono…
Necklines crept up as far as their hemlines dropped but without the starchy modesty that would have been seen earlier in the 19th Century. The era definitely borrowed inspiration from the aforementioned 1920s style with brides embracing a floatier, more ethereal feel. Long, wide sleeves that snapped back to a tight wrist, neckline embellishment such as ruffled and bibs and juliet cap veils (again inspired by the cloche hats of the 20s) all became popular.
Getting back to nature and rejecting the more corporate and capitalist feel of the era had brides taking on some of the hippy trends when it came to accessories. Flower crowns and bare feet weren't uncommon!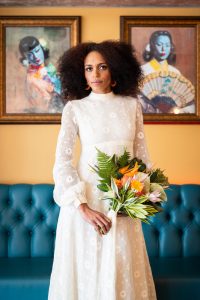 1980s Wedding Dresses
Like the 1940s, the 1980s was split into two very distinct looks – pre Royal Wedding and post Royal Wedding. It can be argued that Princess Diana's wedding dress changed the face of contemporary bridal fashion more than any other royal wedding. Puffed sleeves, voluminous skirts, bows, embellishments, the 1980s wedding dress was all about drama and bridal fashion hasn't looked back since.
The trend for bigger, more extravagant dresses was also fuelled by the growing wealth in the country. Grand, showy weddings that displayed new found wealth  and social stature were popular and the wedding industry boomed as a result.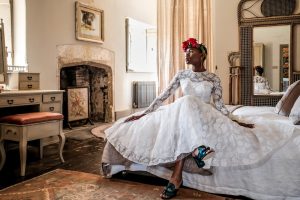 1990s Wedding Dresses
At any time through our history, when there is a period of flamboyant fashion this is often followed by something a little more subdued and the 1990s were no exception. Gone were the big puffed skirt and oversized sleeves of the 1980s. The 90s welcomed a more subtle bridal look that celebrated sleek lines, simple fabrics and quite often a spaghetti strap. Minimalism was the order of the day.
The 90s also opened the doors to being able to get married in a less conventional way. Elopement and destination weddings became increasingly popular which also contributed to the rise of simpler, more transportable wedding dresses. Although veils were still popular, having a veil covering your face fell truly out of fashion and it become more common place for veils to be worn on a headband.